5 New Winter Hair Styles To Try For 2019
Cold weather calls for cool hair. This winter, consider styles that stand up to the elements—high ponytails, Zulu knots, and more. Clayton Hawkins, a hairstylist who has worked with Elizabeth Olsen, Dakota Johnson, and Vanessa Hudgens provides major hair inspiration ahead.
Full Pony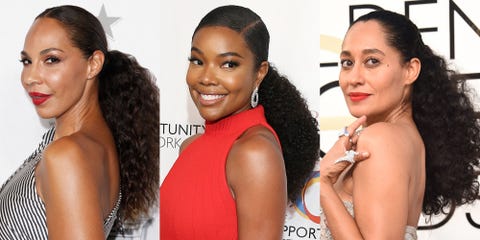 Hawkins pulls inspiration form Amanda Brugel and Gabrielle Union's recent textured ponytails. The idea is to have a sleek top lead into a textured ponytail. Hawkins recommends a strong gel and toothbrush to snatch your hair back into the tightest pony possible. Next, brush out your natural texture and let it get as big and wild as possible. "The juxtaposition is gorgeous and perfect for the winter," says Hawkins.
Old School Glam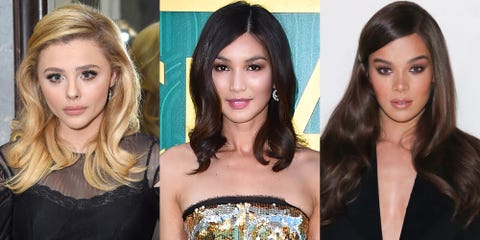 This winter, ditch the straight-ended beach waves and embrace old school glam, voluminous curls. Hawkins recommends investing in a quality hot roller set to achieve the glossy bouncy waves. We've had years of undone bends, but the old school coils are refreshing and perfect for any holiday party.
Knots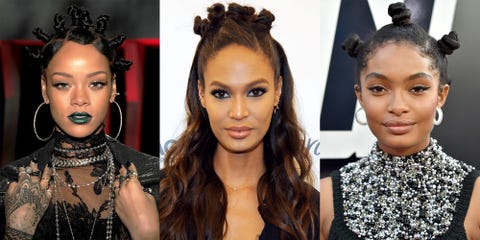 "If your hair is super textured, try Zulu knots this holiday season," says Hawkins. Not only is it a great protective style, but it adds an instant edge to your basic holiday party ensemble. See: Rihanna's iconic look at the 2014 iHeartRadio Music Awards. If you want to add some extra pizazz, add some glitter gel to your partings.
Flip Out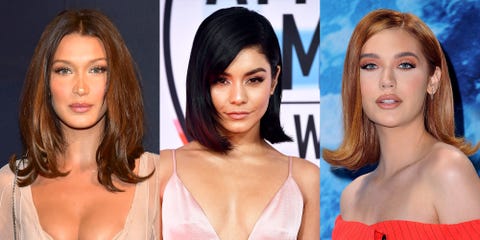 Stars like Vanessa Hudgens and Amanda Steele have been rocking a '60s-inspired flip lately. This modern take is sleek, straight, and shiny with the ends flipped out perfectly. It's feminine, fun, and perfect if you're tired of doing the same S-waves on your lob.
Tie It Up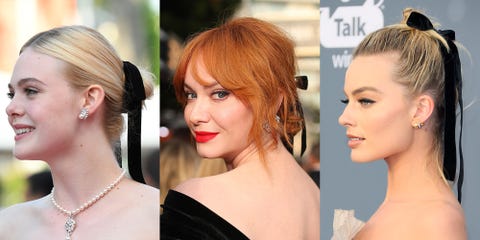 Elevate your holiday party game by adding a velvet detail to your look. Stars like Elizabeth Olsen have been rocking this pretty accessory for a while and the holidays are the perfect time to try it out. Hawkins suggests wrapping an elastic band in black velvet ribbon. For extra edge, wrap the band down more than a few inches. If you're feeling extra girly, opt out of the classic elastic band and try using the ribbon to make a bow.